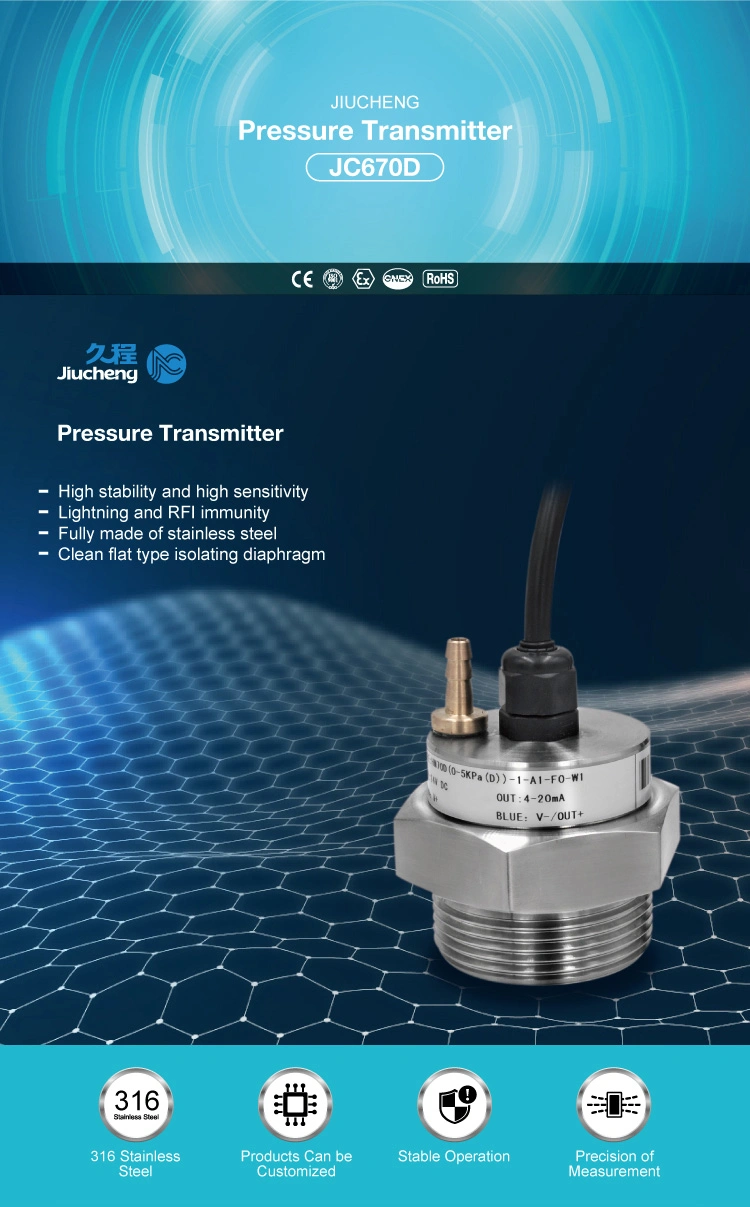 JC670 Hygienic Flat-diaphragm Pressure Transducer Overview:
JC670 hygienic flat-diaphragm pressure transducer adopts imported high-accuracy and high-stability pressure sensor module to covert the absolute pressure or the gauge pressure of the measured medium into 4 ~ 20mA, 1 ~ 5V / 0 ~ 5V standard electrical signal through high-reliability amplification circuit and precise temperature compensation. High-quality sensor and encapsulation technology of full seal welding as well as improved assembling process have ensured excellent quality and best performance of this series of product.
JC670 Hygienic Flat-diaphragm Pressure Transducer Features:
* High stability and high sensitivity
* Lightning and RFI immunity
* Fully made of stainless steel
* Clean flat type isolating diaphragm
* Diversified signal output form and adjustable zero
* Point and full scale
* Reverse polarity protection and transient over-current and over-voltage protection
JC670 Hygienic Flat-diaphragm Pressure Transducer Application:
* Hygienic pressure pipelines
* Food and beverage processing
* Medical and pharmaceutical
* Sewage treatment
* Viscous medium pressure measurement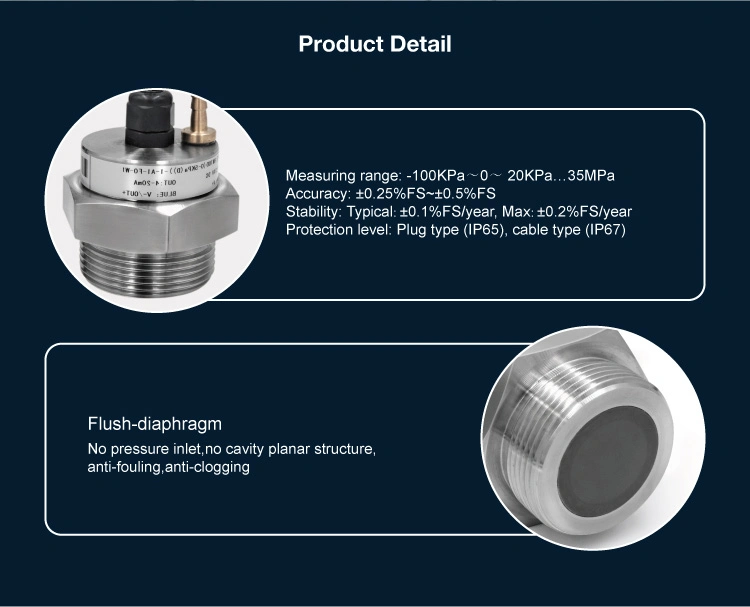 Technical Parameters:
Measured Medium
Liquid, gas or vapor compatible with 316 stainless steel
Measuring range
-100KPa~0~ 20KPa…35MPa
Overload capacity
1.5 times FS pressure
Pressure type
Gauge pressure or absolute pressure
Overall accuracy
Typical: ±0.25%FS
Maximum: ±0.5%FS)
Long-term stability
Typical: ±0.1%FS/ year
Maximum: ±0.2%FS/ year
Zero point temperature drift
Typical: ±0.02%FS/ºC
Maximum: ±0.03%FS/ºC
Sensitivity temperature drift
Typical: ±0.02%FS/ºC
Maximum: ±0.03%FS/ºC
Medium temperature
-20~85ºC
Compensation temperature
-10 ~ 50ºC
Ambient temperature
-20~80ºC
Range of power supply
12~36VDC (24VDC generally)
Signal output
4~20mA / 1~5 V DC /0~5 V DC / 0.5~4.5V DC
Load resistance
≤(U-12)/0.02Ω
Thermal lagging
±0.1% (typical)
Process connection
M30x1.5 external thread or clamp
Enclosure protection degree
Plug type (IP65); cable type (IP67)
Safe explosion-proof degree
Ex iaII CT6
Response time
≤2 ms
Insulation resistance
100MΩ,500VDC
Weight
Approx. 0.5kg
Ordering Information:
JC670D
Hygienic Flat-diaphragm Pressure Transducer
Pressure type
Gauge pressure ( G, may not be indicated); absolute pressure (A)
Range
Measuring Range( 0~ X KPa or MPa)
Code
Overall accuracy (linearity + repeatability + lagging)
1
±0.5%FS
2
±0.25%FS
3
±0.1%FS
Code
Signal Output
A1
4~20mA
V1
1~5V DC
V2
0~5V DC
V3
0.5~4.5V DC
Code
Additional functions
F1
M30x1.5 external thread
F2
Clamp type
F0
Special
W1
Cable type (IP67, 2m)
W2
Socket type (IP65, DIN43650)
E
ntrinsically safe explosion-proof type Ex iaIICT5
JC670D(0~100KPa) -1 -A1 -F1 -W1 Hygienic Flat-diaphragm Pressure Transducer
Tips for Type Selection
* The measured medium shall be compatible with the material contacting with the product.
* The code E, an additional function code for selection, namely, intrinsically safe explosion-proof Ex iaIICT5, must be power supplied via safety barrier.
* Please contact us for other special requirements and clearly indicate them in the order.
* During the field installation of flat diaphragm, the correct sealing method shall be adopted to prevent the installation stress influencing product stability.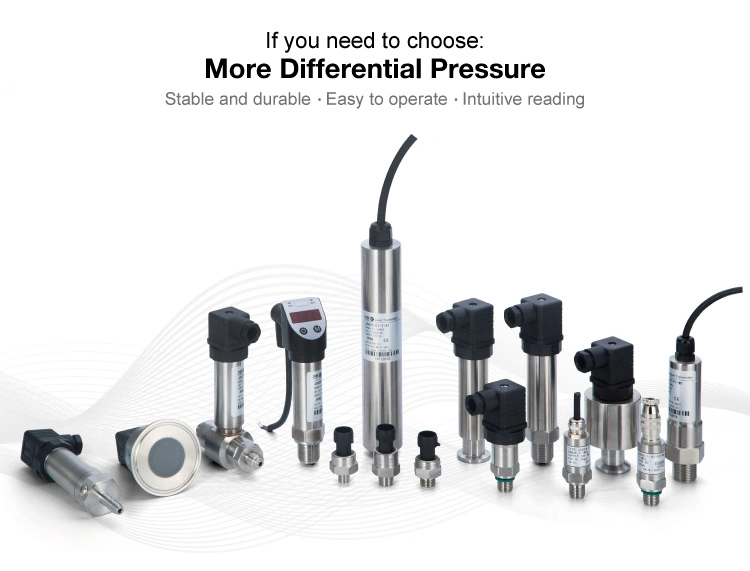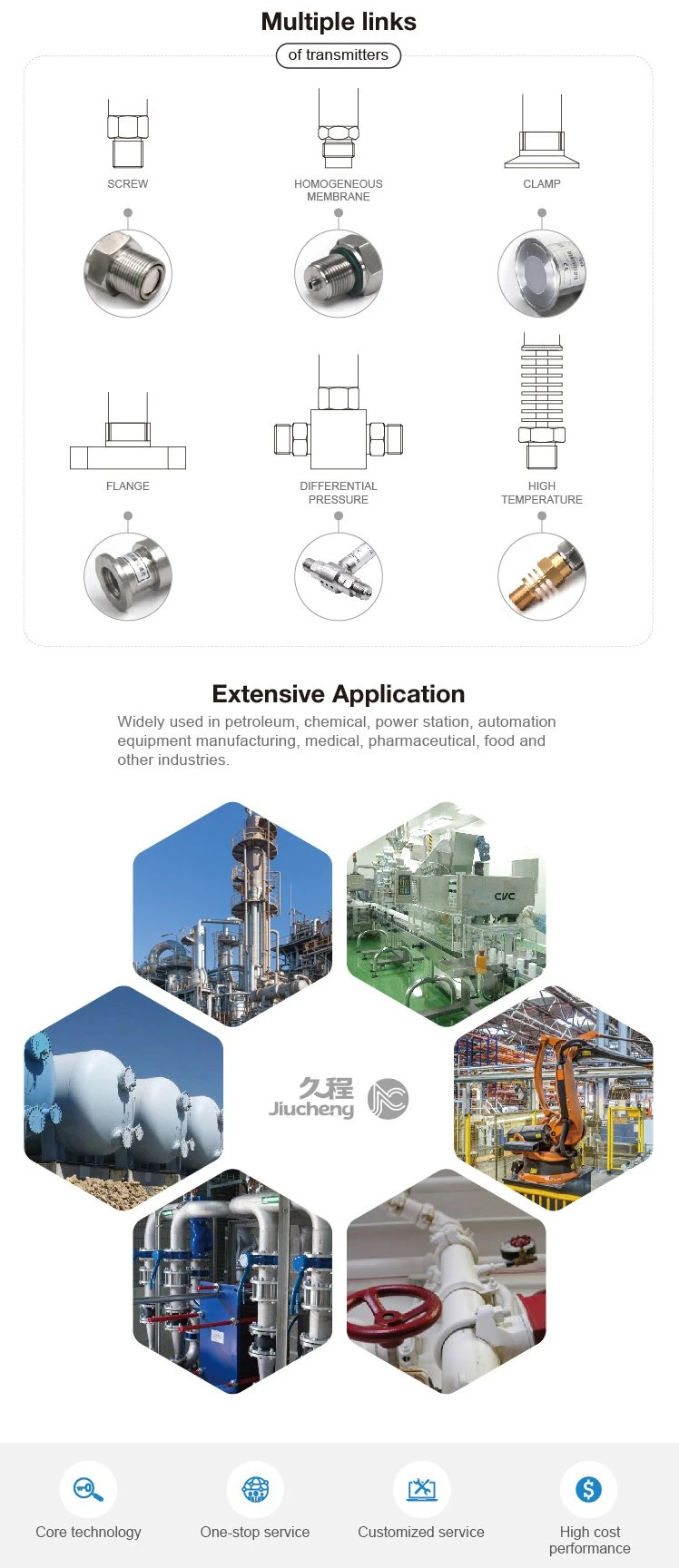 About Jiucheng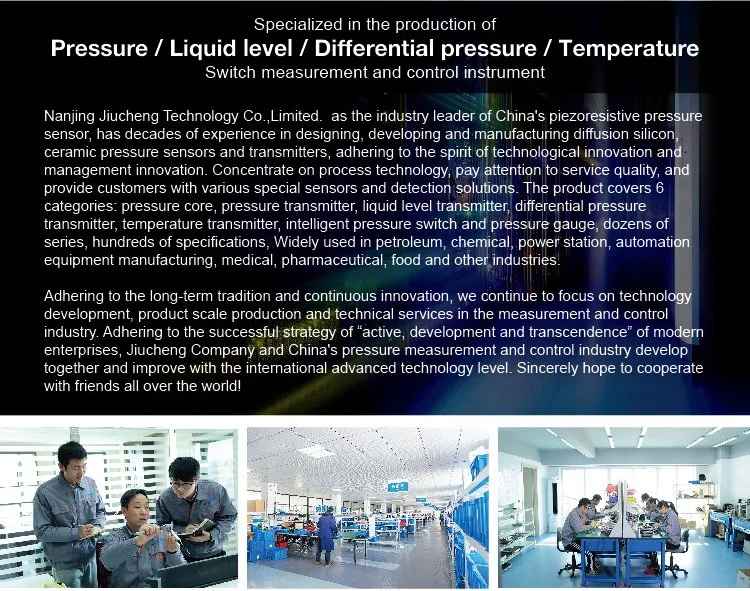 Qualification and Certificate: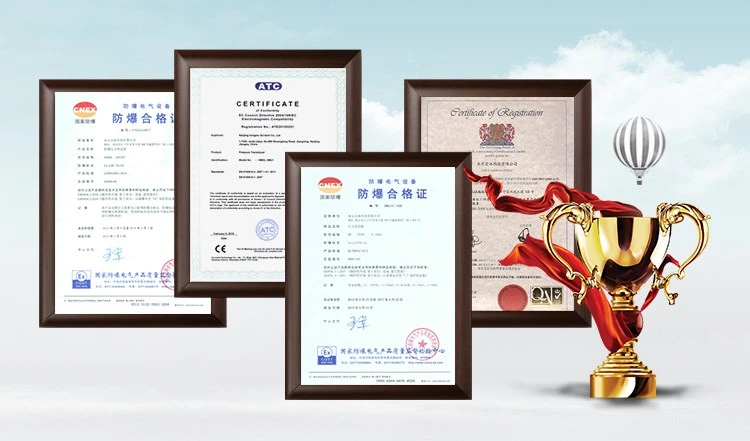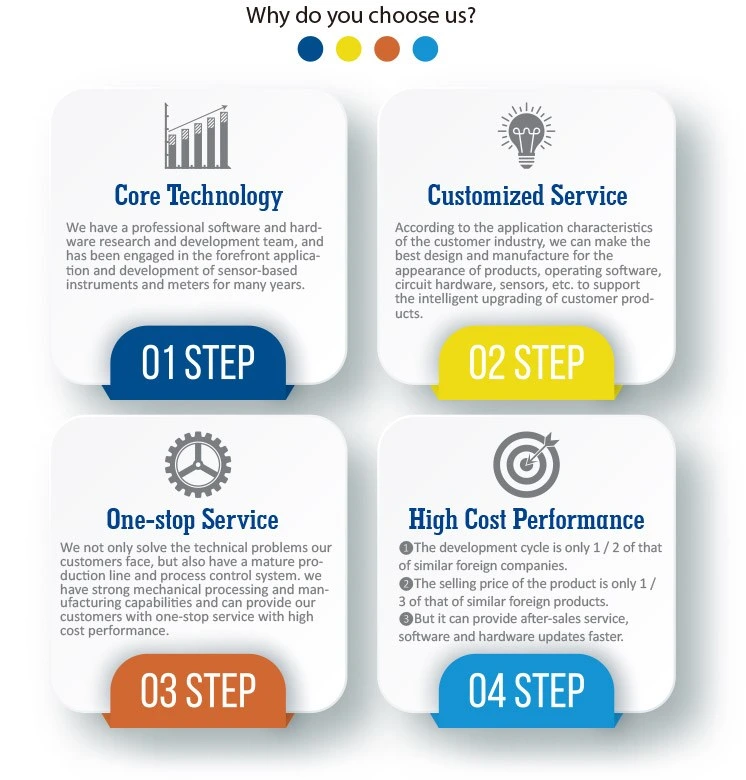 Product Packaging:
We choose cartons and protective pads that can be recycled. This will maximize the protection of our products from damage during transportation.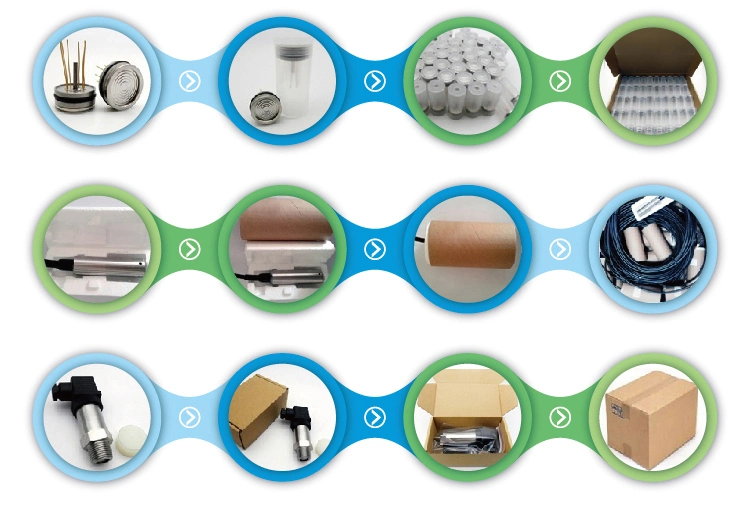 Product Transportation:
We only choose the global express service providers. We will deliver the goods to you at the most efficient speed.