piggery farm equipment pig Farrowing Crates 275g galvanized coating
Pig farrowing crates is also called pig farrowing fence or sow farrow crate & stall. Pig farrowing crates includes sow locating frame, piglet fence, piglet incubator, manure dropping floor, trough for sow and supplementary feeding trough for piglet, etc. The locating frame is used for control the free range of sow's movement. There're bars between each locating frame, in order to avoid being run over of the piglet.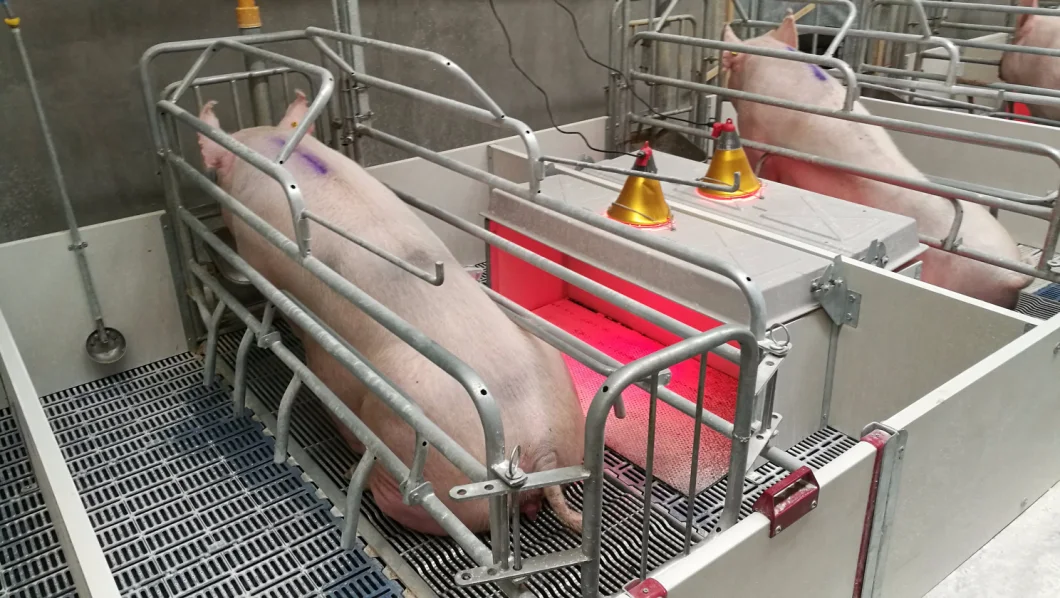 Model

HP-020

Overall size

2.2m*3.6m

Manufacturing technique

Wholly hot galvanizing technology

Tube

φ32*2.0mm circular-tube farrowing cage,the overall length of the hurdle gets to the rear door.

Floor

BMC slat floor 600*1100mm for sow
2 tons load capacity
BMC slatted floor 600*1100mm for piglets.
0.8 ton load capacity

Fence

φ26*2.0mm hot galvanized tube

Feeder

Steel plate feeder for sow and plastic feeder for piglets

Driner

1 SS drinker (for sow), 1 SS water bowl (for piglet)

Incubator

BMC material 2120*600mm
Advantages of pig farrowing crates
1. Clean delivery environment, which can help sows get better recovery and release their highest potential abilities of parturition.

2. Convenient for workers to take care of the sow and piglets.

3. It can protect piglets, avoid being trodden by sow.

4. It can supply better sanitary condition, which can keep bacteria off. Reduce the morbidity of piglets.